Thank you for joining us for our Stampin' Up!® Demonstrator Monthly Blog Hop! As you follow the hop.
I hope you find lots of ideas and inspiration. We are a group of Stampin' Up!® Demonstrators from around the world taking part in a training program helping us to build a successful Stampin' Up!® Business and reach some of our goals. Thank you, we really appreciate your support.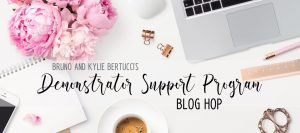 Today I decided to make some customer cards for my October Customer's & Team.
For this project I used products from Swirly Frames stamp set, Lovely You and the Small Bloom Punch.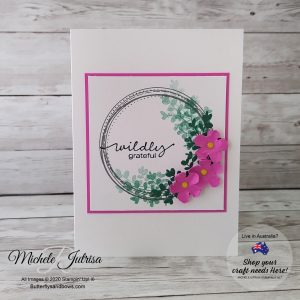 This card is very simple using a 'Stamping of technique or 2nd Generation' stamping.
How to make this Card….
Cut a Piece of Whisper White Cardstock at 8.5 x 8.5cm
Using the Stamparatus stamped the circle Swirly Frame using Smoky Slate Stampin' Pad.
To form the wreath- Using Just Jade Stampin' Pad ,start on the right hand side & stamped the first leaf. Then stamped again without re-inking following the curve of the circle towards the top.(I stamped 3 times) Each time you stamp the image gets lighter and lighter – this gives you the 2nd & 3rd Generation.
Then repeat, this time following the bottom curve.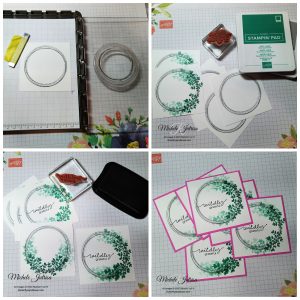 Stamp the sentiment with in the circle using the Memento Tuxedo Black Ink
Mat – Cut a piece of Magenta Madness cut at 9 x 9cm and adhere to the Whisper White square.
Card Base – Whisper White cut at 14.9 x 21cm, scored at 10.5cm
Adhere the stamped/ matted pieces to the card front.
Using the Small Bloom Punch 3 flowers where punched out for each card
and here comes the fun part….
With a piercing mat rub each flower in a circle motion with the large curve end of my Bone Folder to soften the paper.
Then take each flower and scrunch it into a ball. Gently unfold the flower, this gives your flowers some texture and dimension.
Adhere three flowers to the wreath with Multi-Purpose Liquid Glue or a Glue Dot.
In the center of each flower add a Bumble Bee Enamel Dot from the 2020-21 In Colour Enamel Dots.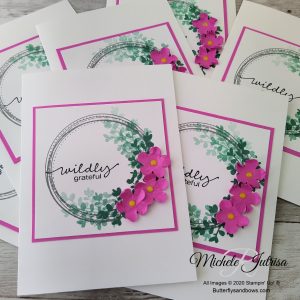 Thank you for coming by today!
We have an amazing line up of Stampin' Up!® demonstrators and we know you are going to love all the amazing projects that you are going to see today.
So you don't miss out on anyone's page you are currently on my page – Michele Jutrisa. The next page to visit is listed below my name on the list below. (If I am the last on the list then, jump up the top and continue from there). So make sure you 'hop' around to all the amazing projects on this hop, I hope you enjoy!
Do you need any of the products used on today's project?
Click on the shopping links below and add them to your collection now.
Blog Hop Links-
Product List