For unto us a child is born, unto us a son is given: and the government shall be upon his shoulder: and his name shall be called Wonderful, Counsellor, The mighty God, The everlasting Father, The Prince of Peace. Isaiah 9:6
Such beautiful and powerful words…These words come from the Old Testament where Isaiah prophecies about the birth of a child. A child that was special, a child who could bring nations in turmoil together. Hundreds of years later that child was born…Jesus Christ. As we come closer to Christmas I pray that we can all remember why we celebrate…that it's not just a time of gift giving but a time to remember Jesus and what his birth means. That through him and having faith in him that we will live with him.
Hi and welcome to my Blog today…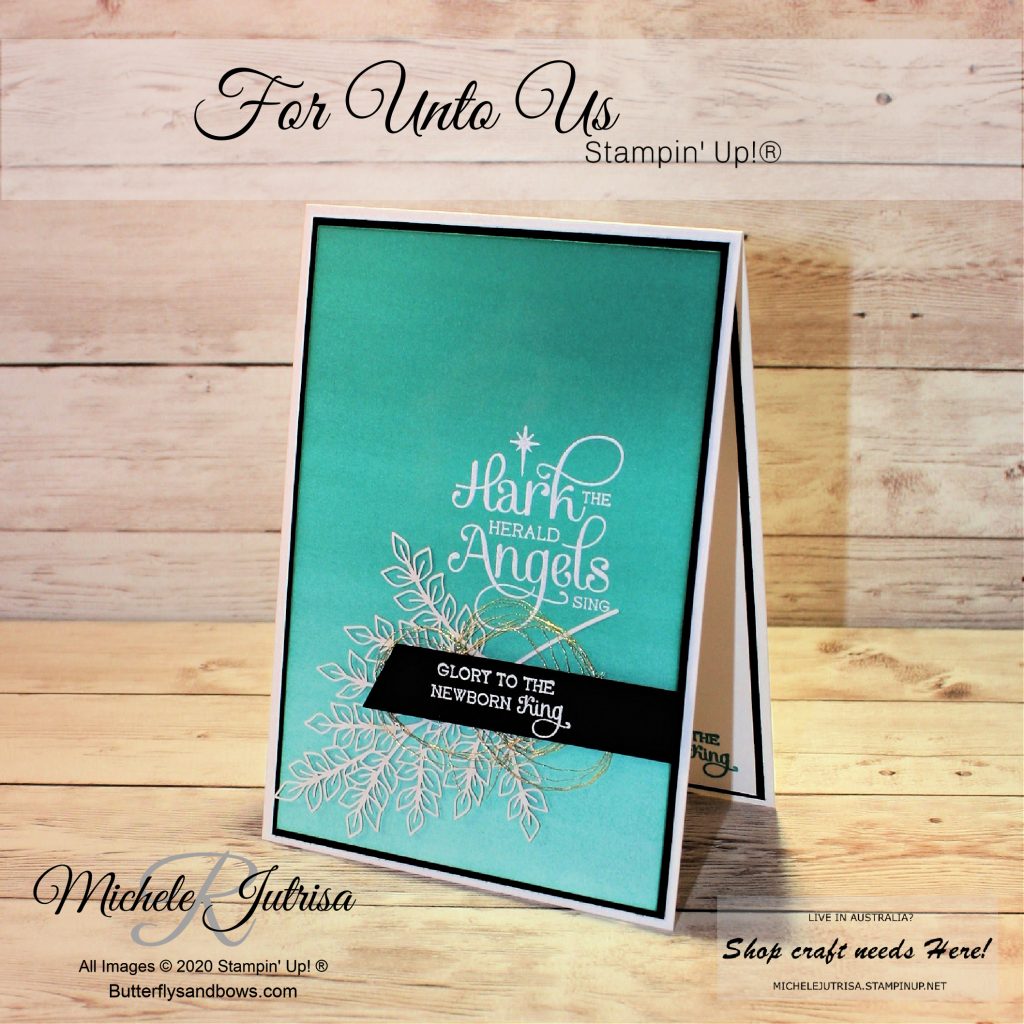 I love these words….Hark the Angels sing….I love to sing and some say I have a nice voice and at Christmas time I love belting out all these old time favorites. But this year it will be hard because in Church at the moment we cannot sing because of Covid.
The For Unto Us Stamp Set by Stampin' Up! has some wonderful sentiments that shouts out to us all to remember the birth of Christ Jesus. This stamp set will be one that I will keep and use or many Christmas's to come.
How to make this card…
This was a simple card to make as the sentiment is the hero…
Products Used
Stampin' Up! For Unto Us Stamp Set
Card Base Whisper White Cardstock – 10.5 x 29.8cm, score at 14.9cm
Mat Basic Black Cardstock – 10 x 14.4cm
Card Front Whisper White – 9.7 x 14.1 cm
Sentiment Basic Black – 1.5 x 7.5cm
Card Insert Mat Basic Black Cardstock – 10 x 14.4cm
Card insert Whisper White – 9.7 x 14.1 cm
Forever Gold Laser Cut Specialty Paper – Large Leaf (use the white side of the leaf)
Forever Greenery Trim Combo Pack – 15cm Gold trim
Sponge Brayer
How to…
Whisper White Card Front – Using a Sponge Brayer & Coastal Cabana Stampin Pad, colour the cardstock. To get the variegated look you need to work down the cardstock and put less pressure on the brayer as you get toward the bottom of your work. To see what I mean watch this video I made last year using the same technique HERE
Once your card front is dry stamp your sentiment in VersaMark ink, cover with White Embossing Powder and set with a heat gun.
Forever Gold laser-cut leaf – apply very small amounts of multi-purpose glue to the gold side of the leaf and adhere to the card front
Sentiment – Stamp the sentiment onto the Basic Black strip using VersaMark Ink, cover with White Embossing Powder and heat set. Cut the left hand side of sentiment strip at an angel. Add Seal to the back of the strip, unravel the Gold trim and loop the fine gold threads behind the sentiment using the seal to hold them in place. Place 3 dimensionals to the back of the sentiment and attach the card front.
Adhere the card front to the Basic Black Mat using multi-purpose glue.
Attach the card front to the card base.
Card Insert – Stamp the 'Glory to the Newborn King' to the bottom right hand corner of the Whisper White Cardstock using the Coastal Cabana Stampin' Pad.
Adhere the Whisper White cardstock to the Basic Black mat & then into the card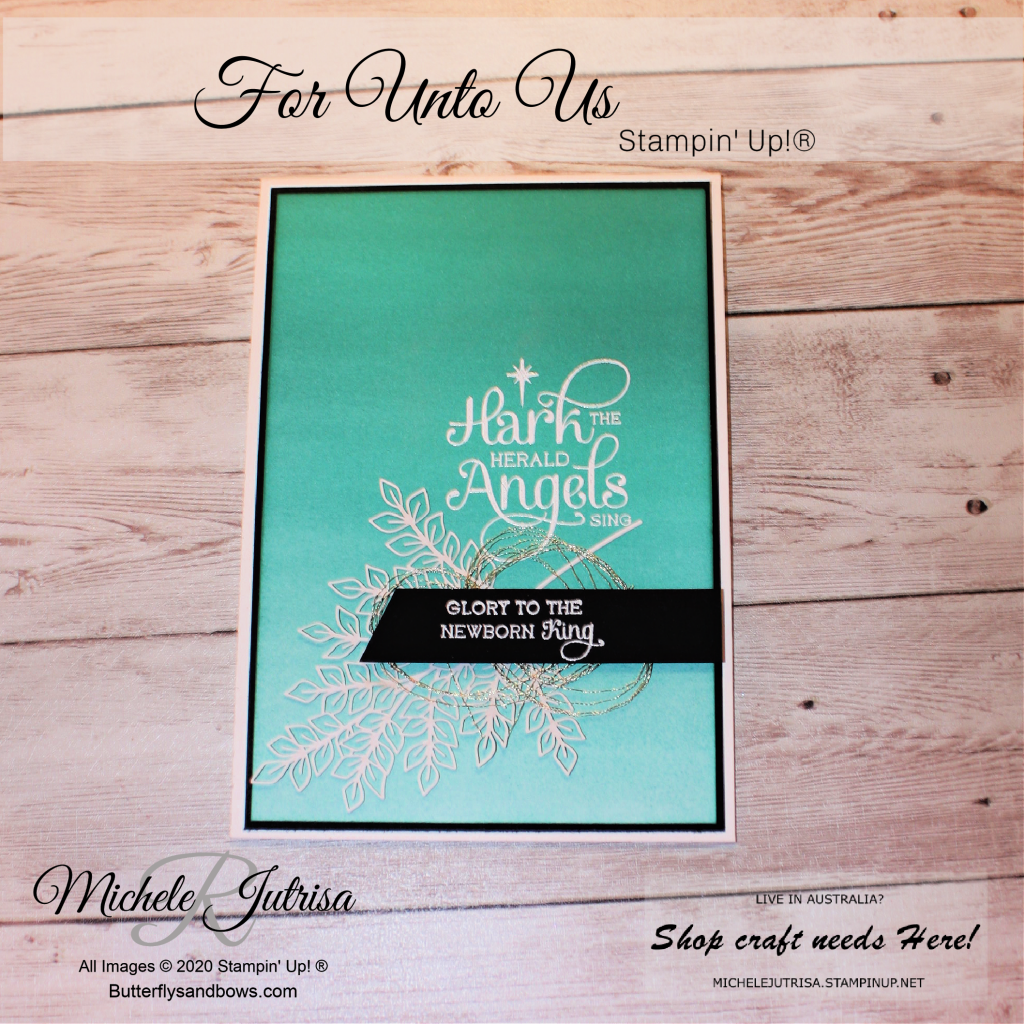 I love how this card turned out and I would love to post it to you. If you would love to receive this card then be the 'First' to comment below …& WIN my card!
Thank you for stopping by and reading my Blog. I hope you have enjoyed my projects & that you're inspired to get crafty!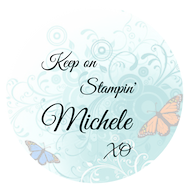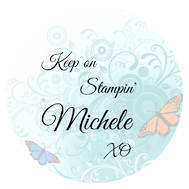 Stampin' Up! Products Used
Below I have listed all the products used and they are linked back to my On-Line Store for your easy shopping experience or contact me either by phone or E-mail. .
Product List
If you enjoyed this post, please be sure to . . .