Thank you for joining us for our Stampin' Up!® Demonstrator Monthly Blog Hop! As you follow the hop I hope you find lots of ideas and inspiration. We are a group of Stampin' Up!® Demonstrators from around the world taking part in a training program helping us to build a successful Stampin' Up!® Business and reach some of our goals. Thank you, we really appreciate your support.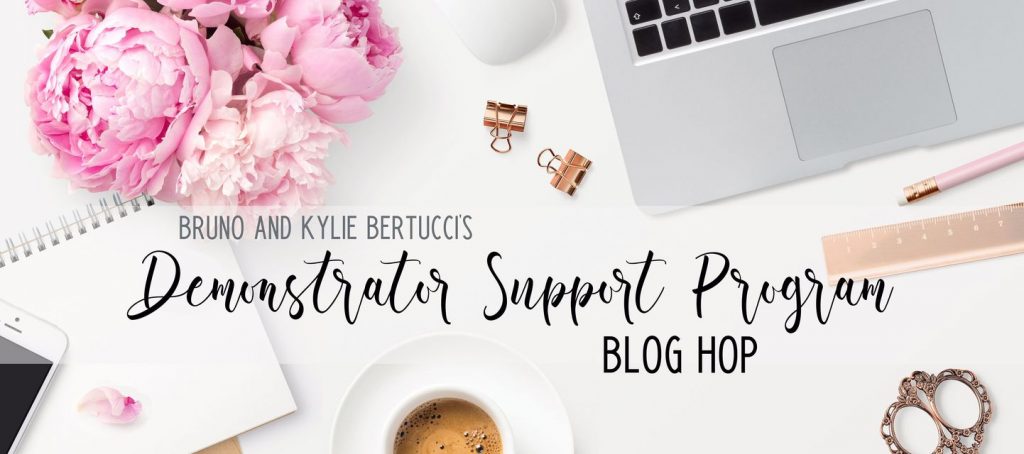 Brilliant Wings – Thank You
Very soon we will be saying 'Goodbye' to some of our favorite products in the Annual Catalogue for 2020-21 and saying 'Hello' to a NEW Catalogue…and that is so exciting!
So far Stampin' Up! ® has given us a peak of whats to come in the Butterfly Bouquet products and this is exciting me for whats to come. Being a Demonstrator I will get the chance to see and even play with some of the NEW Products before they are released to our customers.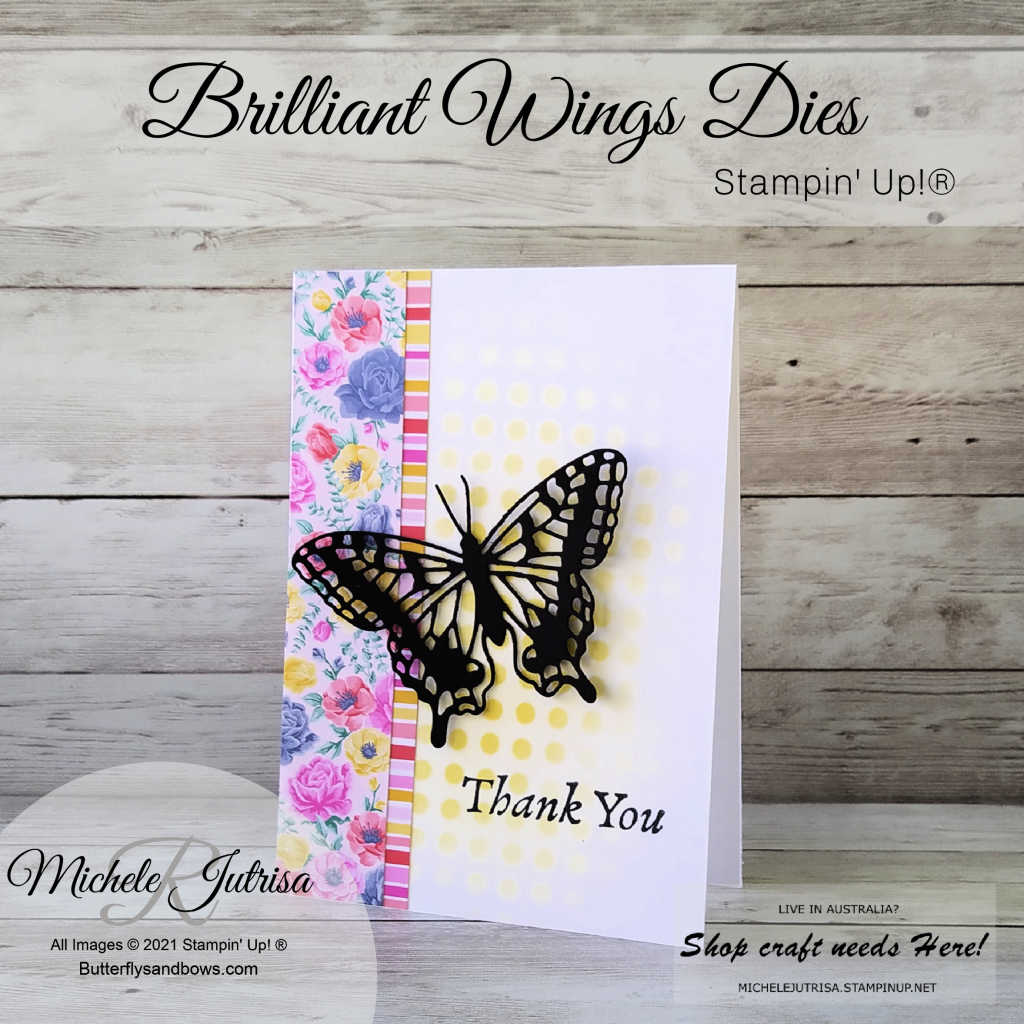 Today's card is Goodbye and Hello …
The Designer Series Paper – Flowers for Every Season may be going but the Butterfly Brilliance Bundle will be with us in the Annual Catalogue come in May. YEP! That's right the Annual Catalogue will be released in May this year…so start working out what you need from the current catalogue and order it NOW!
How to make this card…..
Products Used –
Brilliant Winds Dies
Flowers for Every Season Designer Series Paper
Happy Thoughts Cling Stamp Set
Basic Pattern Decorative Masks
Cardstock – Basic White & Basic Black
Ink – Bumblebee Classic Stampin Pad, Memento Tuxedo Black
Blending Brushes
Measurements –
Card Base Basic White – 10.5 x 29.9cm , score at 14.9cm
Designer Series Paper Strip – 3.5 x 14.9cm
Designer Series Paper Floral – 3 x 14.9cm
Butterfly Basic Black – 8 x 10cm
Method –
Cut all required cardstock
Die Cut Butterfly using the Cut and Emboss Machine, using either the large or Mini Machine.
Place Spot Decorative Mask over the front of the Basic White Card Base. Hold in place with either your hand or this washi tape while you brush over the mask in a circular motion the Bumblebee Ink. **Make sure you remove excess ink before putting your brush onto the mask so you don't get dark patches of colour. When you are happy with the area covered in spots, remove the mask and lightly go over the inked area again adding a lighter colour . The spots and colour blends out around the edges.
Adhere the two pieces of the Designer Series Paper together, using either Seal or Multi-purpose Glue.
Glue the Designer Series paper along the left hand edge. Trim away any over hang of Designer Series Paper.
Using the Memento Ink and the Thank You Sentiment, stamp the sentiment onto your card.
Attach the Butterfly using 2 Mini Glue Dots down the center of the butterfly body.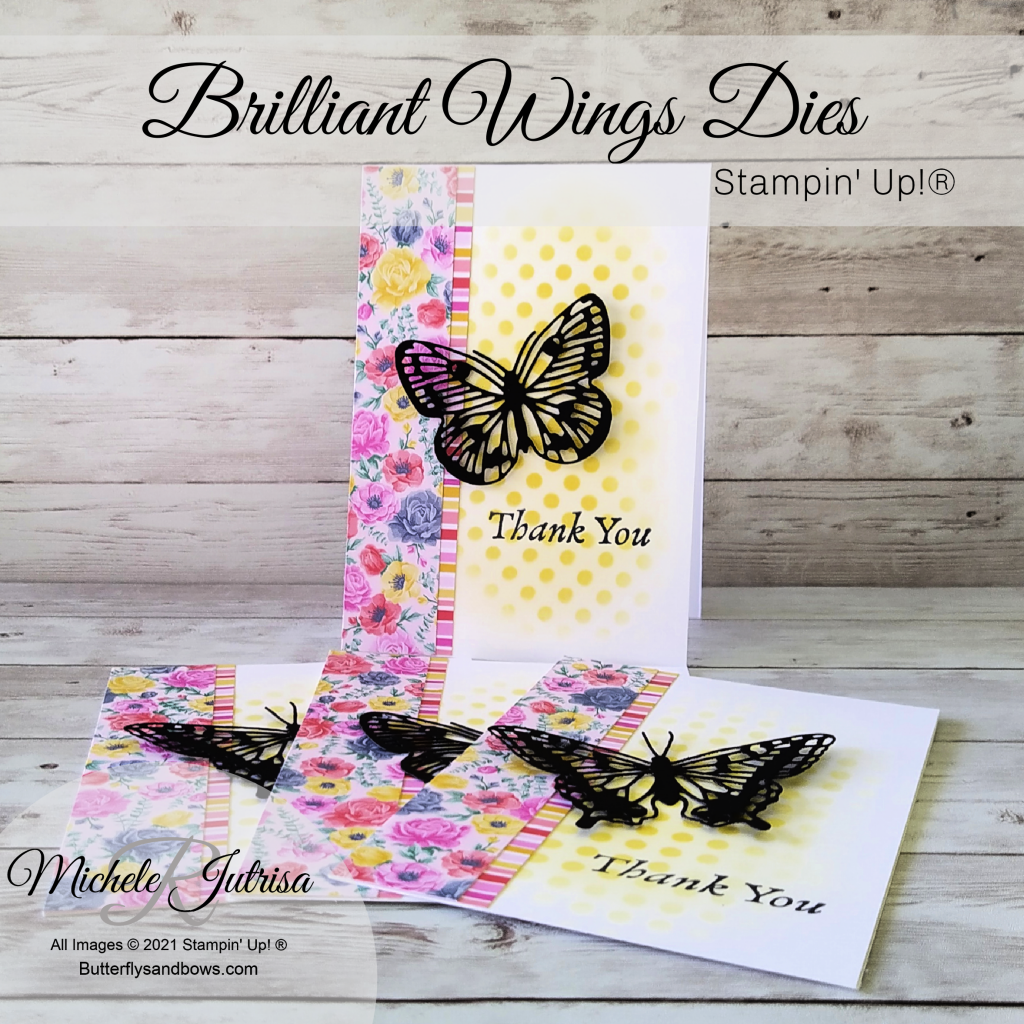 Thank you for coming by today! We have an amazing line up of Stampin' Up!® demonstrators and we know you are going to love all the amazing projects that you are going to see today.So you don't miss out on anyone's page you are currently on my page – Michele Jutrisa. The next page to visit is listed below my name on the list below. (If I am the last on the list then, jump up the top and continue from there) Enjoy the hop!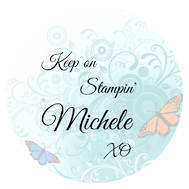 Stampin' Up! products used in today's Project
Product List