Hi and welcome today to my Blog.
Peaceful Nativity Bundle
In my Card Making Class today we made this wonderful 'Theater Card' using the Peaceful Nativity Bundle ..and we had fun!
I had seen this style of card earlier this year and loved it…but just hadn't found the products I wanted to use for it. Then the Stampin' Up! ® 2020 Aug- Jan Mini Catalogue came out and as soon as I saw the Peaceful Nativity Bundle I knew this was what I wanted to do. So back in August I had decided on the stamp/dies bundle and even the Designer Series Paper…Brightly Gleaming Specialty Designer Series Paper…..I just hadn't made the card as yet!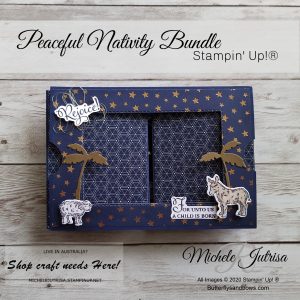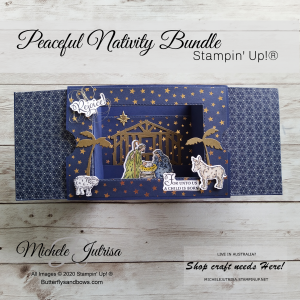 Then this week I had such a busy week I just hadn't had time to make a card and prepare before the class…So what did I do…I knew what card I wanted to make and I had a link to the instructions. So I made a quick dummy card before the class started, just to make sure I knew what I was doing and so I could be aware of any problem areas.Good thing I did …..any problems that could happen where sorted. Great!
So everyone started with some cardstock and we all made the card together. It was a lot of fun and I think everyone enjoyed it. It gave everyone a chance to see how I design a card (layout wise, as the how to make the card was already done by someone else).
The tutorial I used is by Laurence Mirman, the link to here page is below for you to see https://lolascrapetcompagnie.blogspot
Her instructions were very good and translated well with the help of Google.
The only change I made was to make the two sliding panels at the front (Screen) slightly narrower. Laurence said to cut 4 pieces 10.5 x 14.8cm – one for the back, one for the very front and two for the moving screen.I cut down the two for the screen down to 10.2 x 14.8cm. By removing those couple of millimeters meant it fitted easier through the mechanism at the back a little better.
Images….
The stable and trees were die cut using Soft Suede cardstock
Star – Gold Brushed Metallic Cardstock
Jesus, Mary, Joseph and animals were stamped in Memento Tuxedo Black and coloured with Stampin' Blends
This is a great interactive card, starting with a closed front you pull the tabs at each side and the screen opens up to reveal the beautiful scene of the Nativity. Here's a 5 second video showing you how the finished card works.
I love it when a card like this goes together so well ( No mess ups in the class..by me!..LOL)…Mind you next time the class will be prepared well in advance.
Thank you for stopping by and reading my Blog. I hope you have enjoyed my projects & that you're inspired to get crafty!
Below I have listed all the products used and they are linked back to my On-Line Store for your easy shopping experience.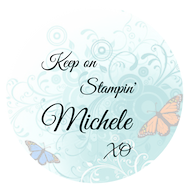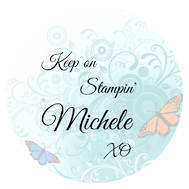 Product List
If you enjoyed this post, please be sure to . . .